History of Alpha Kappa Alpha Sorority, Inc.
Alpha Kappa Alpha is the oldest Greek-letter organization established in America by Black college women. The record of its origin, growth and development, activities, evolving goals, and accomplishments is more than an interesting chronicle of a colorful bit of college-based America. It is, rather, a significant and inspiring reflection of the emergence of a dynamic group in a changing culture. The efforts of Alpha Kappa Alpha women in the promotion of high scholarship, vocational and career guidance, health services, the advancement of human and civil rights, and in so many other areas, constitute a priceless part of the American experience in the twenty-first century. Nine Howard University students were led by Ethel Hedgeman Lyle into a sisterhood in 1908. Four years later, Nellie Quander and her gallant and visionary associates contributed the added dimension of national organization and perpetual membership. These women and those who have come after them, the never-ending stream of eternally young, hopeful, enthusiastic women, need to be remembered. For more information please visit: www.aka1908.com
History of Phi Beta Omega
On June 6, 1998, Phi Beta Omega was officially chartered, with Dr. Betty J. Robinson serving as the first President. The chapter immediately began to provide service to communities in Bucks and Montgomery counties. The Alpha Kappa Alpha Sorority, Incorporated Phi Beta Omega Chapter has over 150 active members. Among the members, eight (8) have been members of the sorority for over 50 years, over ten (10 ) have been members for over 25 years. All lend their talents and expertise to the chapter and are committed to the principals of "service to all mankind." Members work to achieve the mandates of the six international initiatives under the capable leadership of chapter president, Nia Campbell.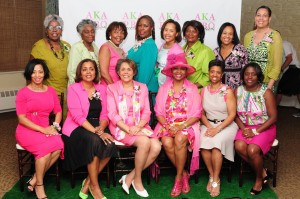 *Pictured
Charter Members
Audrey E. Anderson *∼Angela Bagley-Pride ∼Tammi C. Britt *∼ Melissa E. Brown * ∼Lynn T. Collins ∼Shannon F. Copeland (Singleton) ∼Janice Sinkfield Davis Karen Davis-Williams ∼Gertrude Dunlap * ∼Lois Forrester-Frye ∼Barbara Greer Josato ∼Mattie Rutherford Harding ∼Shirley Shaw Horton ∼Heloise Jettison * ∼ Wanda Lewis-Campbell * ∼Brenda A. Lipscomb ∼Terri Lee * ∼Barbara C. Merriweather ∼Jennifer S. Miller * ∼Betty J. Robinson * ∼Darla Sligh ∼Brigitte B. Stokes Betty M. Turner * ∼D'Ana Watson Waters * ∼Janine Watson * ∼Patricia Edwards Whitmire ∼Sandra Walton Wilson